After a month of work since our last release, we are happy to finally sign off VolleyStation 1.16. This version has a series of changes to core of our software, that results in better user experience when performing everyday tasks. Let us go through all of those improvements, and see what's changed.
Montage export in preset groups
If you have a fixed set of videos, that you generate after every match, you will be happy to know that this can now be achieved faster, using preset groups. Montage is now available as a new report type for every preset, and can be generated just like any other report. We have also added a new group export option, to allow you to get all those videos at once. Exported files will be named after their corresponding presets for better clarity. If you need to do some custom play order, or use flags, those are still available from regular montage reports.
Full filtering options on bench
Reports available on bench can now be fully adjusted by the coach, using all the filters available in VS. This will allow for changes to displayed rotation, match part, and any other options, that may be interesting during a live match. We have also added a button for quick report reset, so don't be afraid to experiment. It's easy to go back to the defaults set by your scout.

To better accommodate the above change we've also made some layout changes to our report creation wizard. You will see that skill and players moved to filter section, leaving step two with only matches to select. This is more in line with our spreadsheet data picker, bringing more coherence through the application.
Faster arrow marking with single click
Our heat maps and spreadsheet courts are powerful tools, that many teams pick up for their analysis workflow. For many of those teams, this creates some additional workload as well. Before working on a match, you need to add play arrows to it. With version 1.16 we've added a faster way for doing this. Instead of dragging your arrow from start to finish, you can now click the end point alone. This will draw an arrow automatically, based on your coded start zone.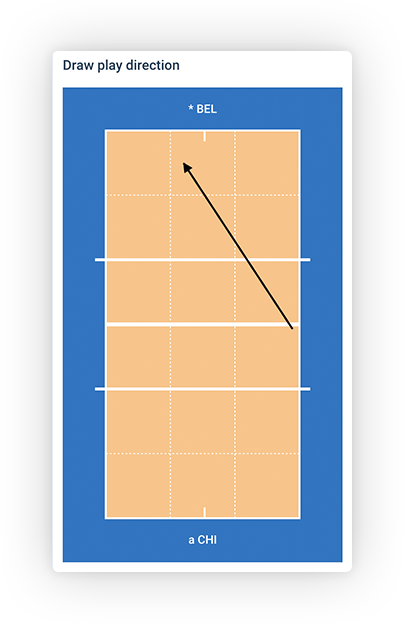 By using this new method, we've found that adding arrows got around 40% faster. We hope that with those speed improvements, even more teams will start to use heat maps for their matches.
If you need more precise start point data, old method of dragging the arrow is of course still available.
Remembering your selections
Last selection made in many places of our application will now be remembered, and filled automatically when you return to the same screen. This will make the most difference when creating reports or spreadsheets, as we will remember your last match selection there. This is however not limited to reports alone. You will see the same change in rotation planner, or even bench stream address.
Match list improvements
This version brings some significant improvements to match list present in database section of VolleyStation. We've added a new video indicator to matches that miss video file. This indicator can be clicked to add video straight from the list.

We've also made some adjustments to how we display practice (same team on both sides) matches. If you have anything in match comment, it will be now displayed in place of away team. This should help you in finding the right practice on the list.
Frame by frame playback
VolleyStation is now supporting moving paused video frame by frame, both in match, and in montage screen. Shortcuts for match screen can be changed in application settings. Montage uses S and D for this functionality, complementing already existing W and E shortcuts for moving the video by 2 seconds.
Other changes
Cards in basic mode now use default configuration for hit type of plays
When merging videos in merge tool, order can now be changed with drag and drop
Report wizard filters can now be cleared with a button, without the need to unselect all options
Improved match filtering by team on database match list
Added substitution counters to match screen
Spreadsheet import supports importing of many files at once
Added a new shortcut to move stream to live position
Give it a try
Changes mentioned in this article, will be gradually released to all VolleyStation Pro users. If you can't wait, you can download VS 1.16 from your user panel. If you want to try VS Pro, then please contact us using the link below.