Over a month ago, we've released VolleyStation 1.9, with spreadsheets module. We were really happy with all the positive feedback we've received. Spreadsheets allowed our more advanced users, or teams with need for deeper customisation, to create their own reports. Today we want to open even more possibilities for you, with addition of spreadsheets for the bench.
Live data for the coach
To enable any spreadsheet for bench access, just enter it's edit mode and select "on bench" option. This will display said spreadsheet in bench mode side menu, just like any other report.
Bench will work with any spreadsheet you already have. Option to use drop-downs to change teams or players will also be available. In top left corner of spreadsheet view you will also find a refresh button. Press it to get latest data from live match or practise session.
While using spreadsheets on bench, please consider that most coaches use their tablets in portrait mode. We strongly recommend preparing custom reports for the bench, that are more vertical, and make better use of typical tablet viewport without the need to scroll.
XLSX export
Soon after the release of spreadsheet module, we've also added the much requested XLSX export. With VolleyStation 1.10 we improved this functionality making your exports almost identical to source sheet. One of the more noticeable improvements will be the export of percent values as actual percent formatted cells.
Performance upgrades
VolleyStation 1.10 features a big overall performance improvement. You will feel it in every place of the application. Data will load faster, animations will be smoother, and general interface will be more responsive. If you often generate reports from many matches, you will be happy to know that generation time of most reports was cut in half.
Working on better performance is something we do for every release, so you can expect more changes like this in the near future.
Better video popout
VolleyStation 1.10 ships with a new video pop-out with a series of important changes. First of all, video size is no longer limited to 40% of your screen. You can also turn on fullscreen mode for presentations on external displays. Another change we made to make presentations easier, is that we keep the original video available in built in player. You no longer have to look at an external display to see what your team sees.
Combined code edit
If you work with external match files and often find yourself in a need to correct codes, you will spend less time on it with combined code edit. Plays that you usually code with a dot will now maintain their connection when editing. That means that if you change attack end zone, you will get the following dig start zone corrected automatically.
Improvements to match coding and editing is an ongoing process, and we have many more improvements in the works. You will see more of them in next VolleyStation release.
Easier directions input
While heat maps are an extremely valuable report, we know that marking play directions is a time consuming task. We've added a new, bigger play marking court in VolleyStation 1.10, to try and help you to be more precise and time efficient. This new court is available in scouting mode on our match screen, so you can even do some of the play marking during a live match.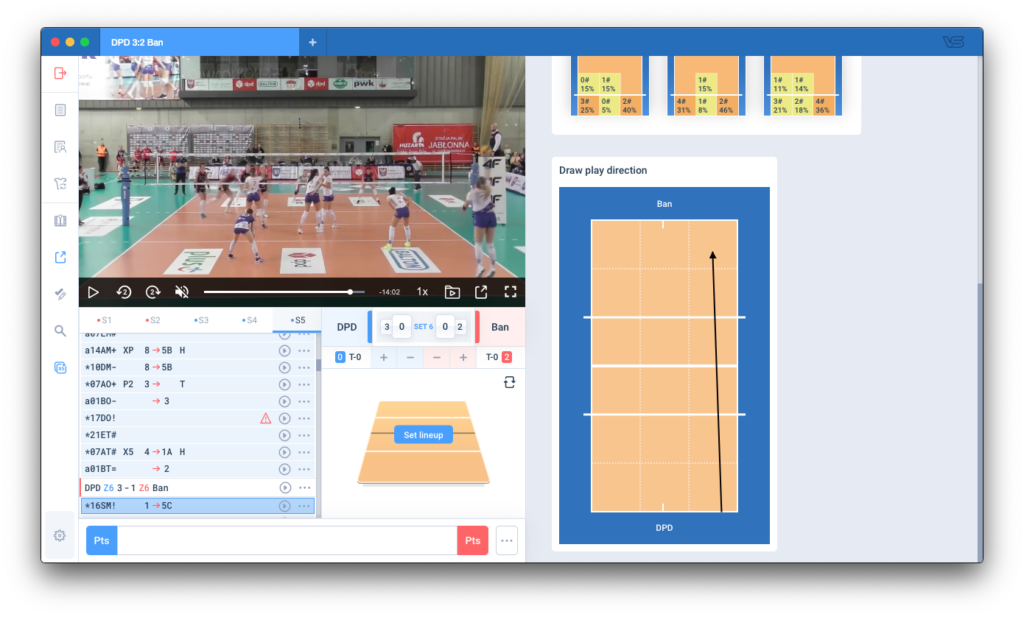 New heat map mode
If you work with many external files, or just lack the time to mark play directions, you will be able to still get a heat map like report with VolleyStation 1.10. In freshly generated reports you will see a new visualisation layer called subzones. This layer uses zone codes to display a mosaic like chart of play density. Be advised that to use this layer you will have to scout your plays using both zones and subzones. Zones alone will not be sufficient to draw this chart, and plays missing subzones will be ignored in this report.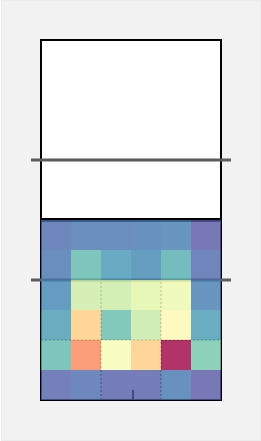 Other changes
This version also offers a set of smaller but important improvements
VSSETCOUNT spreadsheet function now can be used with W/L modifier to count only won or lost sets.
Fixed block start zone being set to attack end zone when using combined codes. Block start zone will now be marked as opposite to attack start zone.
Spreadsheet filters for won/lost exchanges and sets can now be used together.
Search in a match will now highlight new codes as they are added.
Generate again button for reports will now open report wizard in a new tab.
Improvements to coding field including automatic code capitalisation.
Fixes for bench match picker.
Changes mentioned in this article, are already available to all VolleyStation users. Just make sure, you are using VS Pro in version 1.10 or above. If you want to try VS Pro, then please contact us using the link below.