It's been just a week since we've released a big update with new video analysis module, yet here we are with another addition to VolleyStation Pro. This week we are releasing new and exciting report: efficiency over time.
Efficiency over time is a report that focuses on presenting how your performance changed as match progressed. It is also split by sets, as each of them usually has its own unique dynamic.
This new report shows data on 3 charts repeated for every set and skill. Those charts are as follows:
Efficiency change over time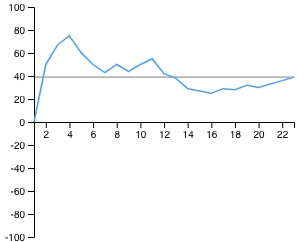 This chart shows current team efficiency for the time of occurrence of each play. You can easily read from it what your efficiency was at 5th or 10th attack. Main purpose of this chart is to make it possible to observe changes in efficiency at turning points of a set.
You can also generate this report with players selected from the players filter. This will show their separate performance on the chart as well. Reading individual efficiency lines will be a good source of information about players efficiency during set. We recommend keeping an eye on this data during the match.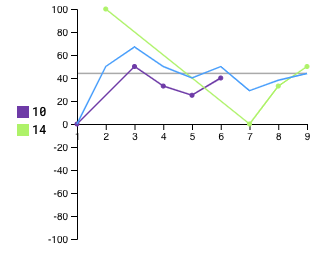 Total player efficiency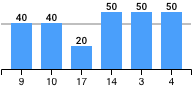 This chart shows the final player efficiency value in this set. It's a simple visualisation, but it allows you to quickly pick up which players performed above or below the team average.
Player effect counts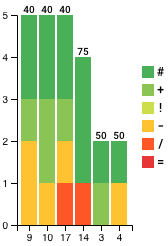 This colourful visualisation will show you, how many plays of each effect, were performed by each player. We adjust colour coding based on analysed skill, so you can always read is as: green is good, yellow is neutral, red is bad. This chart is great in differentiating between two players play styles, even if they end up with similar efficiency. Players who play aggressively will end up with a lot of green and red, while players who keep it safe and controlled will have yellow as their dominant colour.
Summary
We think this new report, will be a great tool for keeping an eye on individual player performance, as well as general team performance. We strongly recommend using it live, during matches, as it can help you in various ways, like performing substitutions at key game moments. Give it a try and tell us what you think!
Changes mentioned above, are already available to all VolleyStation Pro users. If you want to try VS Pro, then please contact us using the link below.