One of the most important points of VolleyStation design, is giving you professional grade statistics, with little work or technical knowledge required. We are putting even more emphasis on that with today's release of rotation and player filter. We call it "court position".
Court position filter can apply the following filtering to both analysed and opposing teams:
Filtering by setter position (zones 1-6)
Filtering by players on the court – Be advised that only plays that happened with all the players on court will pass this check.
Additional filtering by order of players on court – This option will allow you to filter plays by certain player order.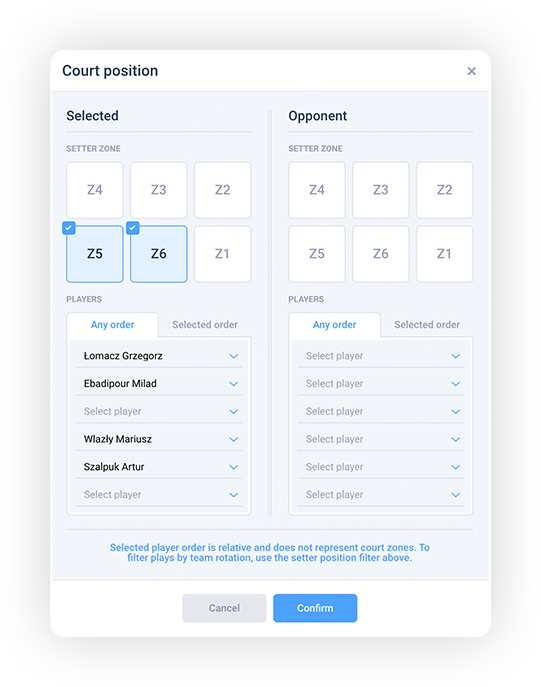 Please note, that positions of players in the filter lists are not corresponding to court zones. To filter by players is specific zones, you have to combine player order and setter position filters.
Other improvements
This new version brings some other nice improvements, outside of the new filter.
First of all, we've added something for those of you working in bigger youth leagues. Team import now uses the same system as match import, and supports importing of many files at once. Importing teams at the start of the season will take less time now.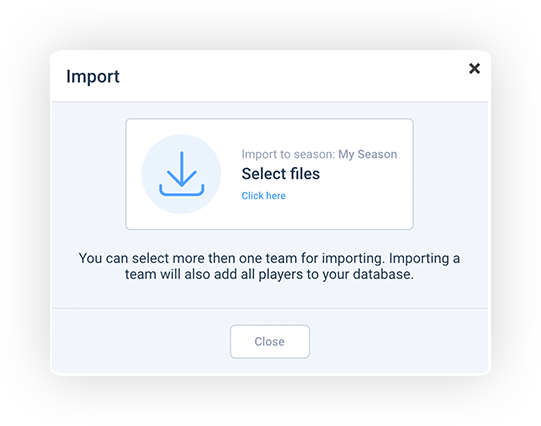 We've also done some internal changes to the application that should result in better performance. While longer lasting tasks like exporting montages will take more or less the same, the application should be generally more responsive. Simple tasks like entering a match or report should be snappier, especially when using many tabs.
This version, like any other, features a bunch of smaller non critical fixes. Those of you that've run into problem with serve direction courts overlapping will be happy to know this is fixed. We've also fixed some other minor problems with reports and prints.
Changes mentioned above, are already available to all VolleyStation users. Just make sure, you are using VS Pro in version 1.7.3 or above. If you want to try VS Pro, then please contact us using the link below.