VolleyStation Bench is an important part of workflow for any team that depends on live stats. It has broad capabilities when it comes to displaying reports and spreadsheets, and even allows the coaches to fine tune the analysis themselves.
While we were happy with the reporting side of bench, we knew that there was a place for improvements in regards to match video streaming, and getting access to more basic match data. We've addressed most of those issues with the latest addition to VolleyStation Bench: the match view.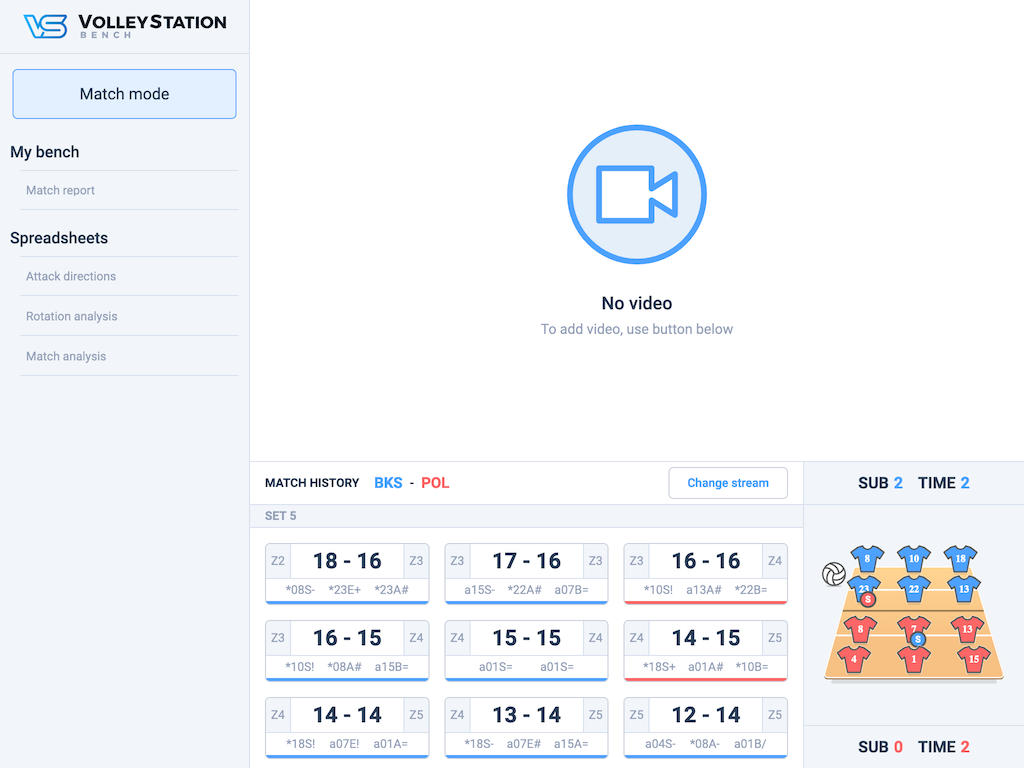 Match view brings some of the information present in VolleyStation Pro match view stright into the bench. Main components of this new view are: streaming, court and rally list. We will now go over all those new additions, and explain how they work.
Streaming
Streaming itself remains generally unchanged. You still add address to the video, and navigate it like before. The main difference is that streaming is now present inside match view, and has a lot more space available to it. This will allow you to watch action replays without the need to switch to full screen and back. We think this is a big improvement compared to previous sidebar location.
Court
Court will display latest line-up information, as well as serving team for the match. We have also added information about taken timeouts and substitutions around the court. This will allow coaches, and other staff members to better control of the state of the game, without the need to consult with the analyst.
Depending on your location around the court, you can rotate this component by simply pressing it. This way you can set it up to fit your perspective.
Rally list
Arguably the biggest addition to the bench, is the rally list. Rally list gives you a quick preview of all the rallies, points scored and even some of the plays that happened in them. We always display first, and last two plays, so you can easily find rallies you want.
Finding the right rally might by more important then you think, because of the integration with the streaming. Pressing any rally will move the stream time to the moment of the serve, allowing for a quick navigation across the match. Stream still has it's own buttons for video seeking, so you can move around freely to search for the exact play.
Streaming navigation has no limits in regards of how far back you can go. All the rallies can be always navigated to, with a single tap of your finger.
Other changes
This version features a set of smaller changes and improvements. Here are some of the more important ones
Improvements for importing of matches without video sync.
We've improved the reliability of our keyboard shortcuts. As a side effect of this change, you will have to set again all your shortcuts that are using Space key.
Combination report will now display combination names besides combination codes.
Give it a try
Changes mentioned in this article will be gradually released to all VolleyStation Pro users. If you can't wait, you can download VS 1.22 from your user panel. If you want to try VS Pro, then please contact us using the link below.