Todays release brings big improvements to one of the most important screens in the application. We did big changes to match screen, improving its usability and layout. This is only first half of changes we are working on, so you can expect more match screen improvements to land in next release.
Improved preview court
First change you will probably notice, is that small preview court is gone, and it's task is now handled by bigger court, we used for drawing arrows. We have extended our preview options by adding play preview as well. Now upon play selection you will see not only its arrow, but also players who took part in it. If there is no arrow, we will display current lineup for that play.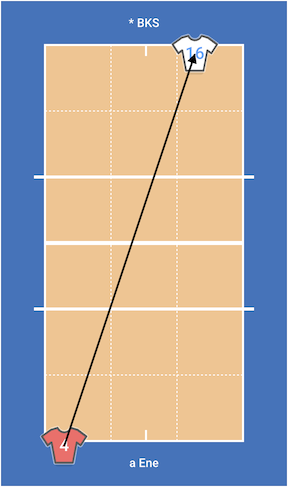 This new court will also displays current lineup when you are coding so no information that was present before is lost.
It's important to note that Set lineup button, that was shown on small preview court when new set had to be created, is now shown next to coding field. This is the same place that we display end set button in, so it improves general match screen coherence.
Rosters
With removal of small preview court we have freed up some precious screen space. This space is now used to display team rosters for both home and away teams. You can set those rosters to either be sorted by player numbers, or by player position in general team roster.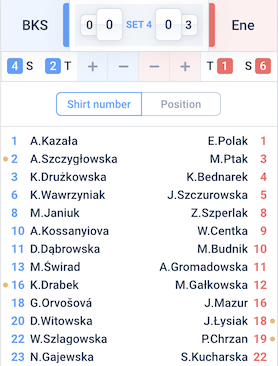 Other changes
This version has much more improvements than just match screen redesign. Here are all the important tweaks and fixes we added since the release of 1.16:
We've added a new application start page with a ton of helpful tips about keyboard shortcuts
New heat map reports will now feature hit type as an additional switch available inside the report
Another change is a series of improvements to coding system. You will see data moving between plays better, especially when using dot coding. One of the examples will be code S.R that instead of defaulting to S+.R+ will now default to S-.R+
Video analysis screen will now show expected montage duration
Your setter call and attack combination mapping settings can now be saved and reused for many matches
Rotation planner now supports printing
We've added a detailed change log that can be accessed by clicking application version in main menu.
Give it a try
Changes mentioned in this article, are already available to all VolleyStation Pro users. Just make sure, you are using VS Pro in version 1.17 or above. If you want to try VS Pro, then please contact us using the link below.