After a long period of development and internal testing, we are happy to finally release our integration with Hudl Sportscode. We hope that this functionality will bridge some gaps between commonly used volleyball analysis and video tools, and help our users in building better workflows for their teams. Let's go over all the new things available.
Export to Sportscode XML
First thing we want to cover, is the ability to export matches into Sportscode XML format. This can be done from match list, where you will find new export icon available.

This action can be performed on any match or practise, regardless of its origin. Matches imported into VolleyStation, can be exported into Sportscode XML as well.
It's important to remember that Hudl Sportscode is a video centric software, so we encourage you to make sure your match video sync is in line, before exporting your matches. This will ensure best experience in both applications.
It's also important to note, that since most Hudl Sportscode users are also users of Hudl VolleyMetrics, we did adapt some of the conventions used there, for better experience when working with mixed matches.
Live export
We offer not only full match exports, but for those of our users who want to use Hudl Sportscode live, we have live export available as well. You can enable it from the sidebar on match screen.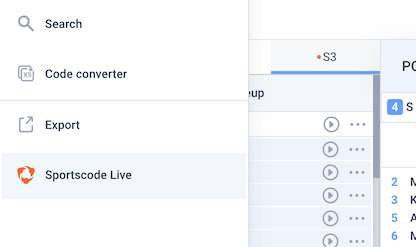 Live export will create file on your disk, that will be updated every time you make changes to the current match. You can stop exporting by either using the stop button, or by simply leaving the match.
To effectively use VolleyStation and Hudl Sportscode in live scenario, you need to make sure your video streams are aligned. Please consult Hudl Sportscode user manual for details.
VolleyStation Streamer for macOS
While we are on the subject of live scouting, it's worth mentioning that recently we've released a macOS version of our streamer. This version is identical to the one previously available for Windows. It can stream and simultaneously capture video from a variety of devices, including some IP cameras. This release makes it possible to have entire VolleyStation and Hudl Sportscode setup working on a single mac.
Streamer for macOS can be downloaded here
Give it a try
Changes mentioned in this article, are already available to all VolleyStation Pro users. Just make sure, you are using VS Pro in version 1.19 or above. If you want to try VS Pro, then please contact us using the link below.